New ERP System Goes Live at Nichol McKay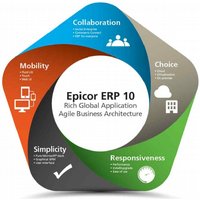 ERP Investment
In today's fast moving world of supplying the world's leading Original Equipment Manufacturers, fabricated metal product producers face increased global pressure, are stressed to find new efficiencies. Price sensitivity, volatile raw material cost, shorter product lifecycles, and adoption of quality and value-added services can be challenging. In response, Nichol McKay are expanding their traditional business and looking for new opportunities—some in new and unknown markets and others centred in business performance. Lean initiatives are driving Nichol McKay to reengineer business processes from the shop floor to the top floor and to the extended supply chain. To support this journey Nichol McKay have invested over £100K in upgrading its ERP system.
Improve Operational Visibility
Taking stock of core business operations in an integrated fashion is, for Nichol McKay, the initial step in improving business performance through greater visibility of office and shop floor operations. Through integrated ERP technology, we can remove redundant processes and improve accuracy of information to provide better customer service and centralised operational management.
Epicor E10 is a completely integrated solution for managing our business.
From marketing and sales through production and planning, sourcing, procurement, customer service, and finance; Epicor E10 offers the opportunity to improve and strengthen our business on every level.
We believe that focusing on improving operational performance whilst focusing the business on meeting customer demands and on fostering a closer relationship results in increased performance. Maintaining these highly developed relationships requires strong communication coupled with agility and flexibility to quickly respond to these customers change in demand while being able to quickly respond and supply value-added services.
Epicor E10 offers a suite of functionality designed to assist our organisation in putting the demands of our customer first.
The new system successfully went live in November 2016 and is delivering benefit to the business and our valued customers.
Contact us
+44 (0)1292 476633