Nichol McKay invests in IGM Robotic Welding Cell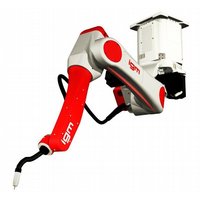 Investment in Expanding Robotic Welding Capability
New IGM Robotic Welding Cell
Nichol McKay have invested in an additional IGM Robotic Welding cell. The new system further expands the company's capability and capacity on automated robotic welding.
The robot welding cell consists of an igm welding robot Rti 456-S (1.5M) - in a floor mounted position in front of a 2 station head and tailstock arrangement mounted on a 180 degree end changer unit.
Each headstock and tailstock unit have 300 kg capacity with 1200 mm between centres with 350m mm swing radius.
The welding equipment is a Fronius digital single wire power source using a 1.6 metre torch cable and 500 amp capacity torch.
The cell offers "Offline Teaching / Programming", which increases the operational availability of the robot for production. While saving time, programs may be prepared more conveniently in an office environment and simulation test runs (accessibility, computation of cycle time) may be performed.
We are delighted that this investment further enhances the welding Capacity, Capability and Quality that we can offer our customers.
Contact us
+44 (0)1292 476633