Nichol McKay Invest in the Latest CNC Punching Technology from Trumpf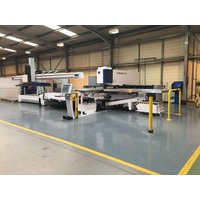 Tru Punch 3000 Investment
Nichol McKay are pleased to announce the latest in our ongoing commitment to invest in the very latest production equipment and technology. Working with the prestigous German company Trumpf, with whom Nichol McKay has a 30 years supply partnership, we have installed a TruPunch 3000 CNC Punching Centre with Automation representing an investment of almost half a million pounds.
The TruPunch 3000 delivers flexible punching with fast setup, all tool rotation and total station independence. All tools fit in any station, and may be setup offline, leading to far higher uptimes compared to turret presses. One of the features of the new TRUMPF TruPunch 3000 is the all-new electric punching head. It is quiet, fast and requires less power than its predecessor so aiding Nichol McKay's commitment to limit the impact on the environment. Combined with skeleton-free processing, the electric punching head allows Nichol McKay to produce punched parts even more efficiently.
The Trumpf TruPunch 3000 is our newest CNC cutting machine. With integrated sheet master material handling technology, 24/7 operational ability, a stroke rate of 1000 strokes per minute and it's dynamic electric punching head makes it as powerful and adaptive addition to the wide range of production processes available to our customers.
For more information contact sales@nicholmckay.com
Contact us
+44 (0)1292 476633