Made in the UK - Re-Shoring with Nichol McKay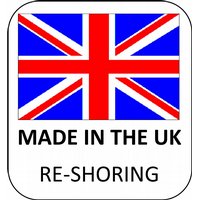 Re-Shoring with Nichol McKay Ltd.
Having trouble with your overseas suppliers? Costs increasing due to currency? Delivery schedules not being met? Finding it difficult to make changes to orders once placed? Is the quality not up to your standards? Are you finding your costs rising from your overseas supplier including, transportation and the need to "hold" more inventory than you need?
If these are issue you are facing—try re-shoring your goods with a trusted UK supplier. For fabricated metal parts and assemblies, that supplier is Nichol McKay Ltd.
At Nichol McKay we will...
Provide "Made in the UK" quality products and services using skilled UK workers.
Use advanced Manufacturing and Automation techniques to minimise the offshore advantage.
Be flexible to meet your needs and scheduling requirements, allowing you to keep your inventories lean.
Allow you to make changes as needed and get your product to market faster.
Turnaround your requirements quickly, reduce your supply chain inertia and protect you from currency fluctuations, high transportation costs, customs delays and long shipping lead times.
Produce 'as required" to meet your demand so you do not have to hold large quantities of inventories.
React quickly and work directly with you should your products require alterations or rework.
Provide you with a stable UK Supplier of fabricated metal parts and assemblies that has been serving its customers with distinction since 1977.
Many companies that have taken their work offshore have found that the hidden costs outweigh the "Cheap Labour" = "Cheap Price" benefits they thought they were going to achieve.
With the current sustained weakness in Sterling showing no signs of improvement in the foreseeable future, now is the time to Re-Shore to a trusted UK Supplier......Nichol McKay.
If it's made from metal, contact us!
Contact us
+44 (0)1292 476633